Oil-based paint was once a popular option for the high-impact areas like doors, cabinets, and trim work. But remember that once the paint dries, then it emits volatile organic content and this is harmful to the environment. In addition to this, some homeowners may also find oil-based paint clean up messy and smelly because mineral spirits and paint thinner are used instead of water.
The important question asked by many people is that can we paint latex over oil-based paint? So, in the following blog, we will be looking at all the things that you should know if you are planning to paint over oil-based paint interior:
Painting Over Oil-Based Paint-Possible?
Note that you can apply the latex or oil-based paint on the oil-based paint easily. Once the surface is fully cured, then there is no barrier that can stop you from coating an additional layer of latex or oil-based paint. Remember that the water-based latex paint will be using water as a delivery vehicle. In the case of oil-based paint, the oil will be the delivery vehicle for pigments and coating.
Preparation is very important here. If you are going to paint on a glossy surface, then you have to properly clean it, sand it, and you also need a damp cloth or tack cloth to complete the job. Without proper cleaning, you are not able to add a second layer of paint. Next, you need a primer before you are going to apply the latex paint. Primer is needed in every painting task. But remember that if you are having various layers of oil-based paints, then you should scrape off the paint first.
Surface Usually Coated in Oil-Based Paint
You might be wondering, how to determine that a surface is coated in oil-based paint? If a good amount of time has passed, then you are not able to identify the oil-based paint due to its touch and odor. Remember that the oil-based paint is self-leveling. Once you apply the paint with a brush, the paint levels flat, leaving zero-brush mark, bubbles, holes, or gaps.
There is no doubt that door frames or windows sill painted in oil-based paint looks beautiful. So, you should pick the areas that need smooth and durable coating like window trim, baseboards, door casing, fireplace mantels, kitchen cabinets, shelves, baseboards, crown molding. For home painting services Cape Cod, you can hire the expert painters of Total Care Painting to get the desired results. The experts will guide you about the latest trends to make your house interior and exterior attractive.
Test to Do Before Painting Over Oil Paint
If you are having doubts about the paint type, then you can do the following test for oil-based paint:
Just dip a cotton ball in a small amount of denatured alcohol. Rub it over a small area of a surface.
If paint does not come off, then it is oil-based paint and you have to prime the surface with a bonding primer before applying the latex paint. The primer can be latex so you have to apply latex primer over oil-based paint. But remember that product should be made specially to prepare the surface and help in adhesion.
If paint comes off, then it is water or latex-based paint and you can paint the surface with any type of paint.
Project Requirement
You will need approximately one hour to work on ten square feet.
The material cost will be $20 to $60.
You don't need to be an expert for this task.
Tools You Need
Tools are needed every time when you are going to do the painting. You will need a tool for oil painting and for other type of painting as well. Here, you will need the following tools:
Paint
Tack cloth
Fine-grit Sandpaper
High-quality paint brush
Trisodium phosphate (TSP),
Wood putty or wood filter,
Putty knife or five-in-one tool.
Instruction to Follow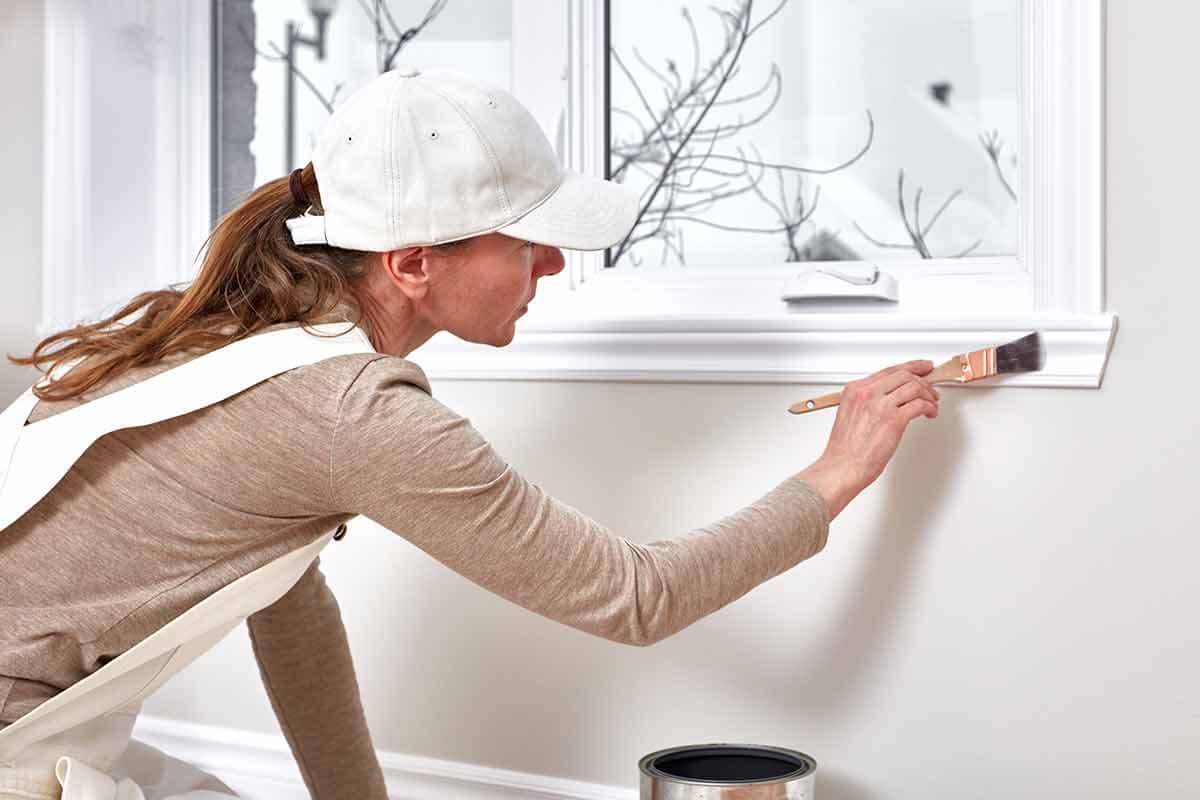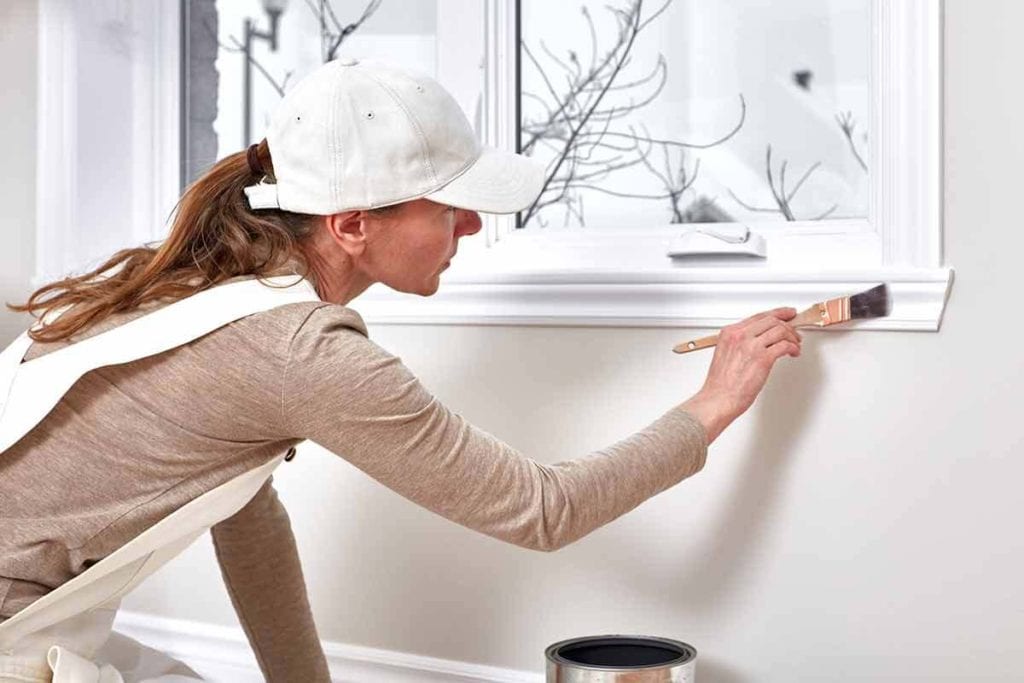 You should follow the below instructions to paint over oil-based paint:
1-Scrape Surface for Removing Gloss
You need to use the fine-grit sandpaper, scrape down the surface of the oil-based paint layer for better adhesion. Your aim should be the removal of surface sheen and gloss. Gloss is the enemy of paint adhesion just like the dirt. You have to remove the loose paint using the five-in-one tool or putty knife. Furthermore, fill small gaps and holes using wood filler or wood putty.
2-Damp-Clean for Removing Debris
It is important to note that dirt and dust may affect the ability of latex paint to stick with the surface. If you are doing latex over latex paint, then you can skip the cleaning step. But now the situation is different and it needs proper cleaning. You also need to keep the drying time in mind if you are going to use a damp cloth.
To make cleaning better, you should add TSP in the water. You can easily get it and it is inexpensive. You can visit a hardware or home improvement store and mix it in hot water. Once you have completed the cleaning using TSP, then you should allow the damp surface to dry.
3-Dry Clean Using Tack Cloth
Once the surface has completely dried, then you should use a tack cloth to wipe down the surface. Tack cloth is an inexpensive and simple product that is made up of cheesecloth saturated with beeswax. The sticky surfaces on the tack cloth are perfect to remove the dust. Remember that you don't have to rub too hard. If you will be applying hard pressure, then this will leave wax on the surface and it will be hard for you to remove it as compared to the dirt.
4-Painting the Surface
Once your surface is completely dried and dirt-free, then you can start painting. You should be using a high-quality paintbrush to get the desired results. Remember that you should not load the paintbrush with too much quantity of the paint. You should only dip the tip of bristles into the paint. Draw paint in slow, even strokes and always maintain a wet edge. You have to wait for at least two hours before applying the second coat of paint over oil-based paint.
This was a detail information regarding painting over oil-based paint. To get your property painted by the experts, you should hire expert painters of Total Care Painting. The skilled painters will be using high-quality paint and proper tools to paint your house with trendy colors.
To know more about the painting services, you can call us at (774) 327-9118.