8 Attractive Paint Color Ideas for Kitchen Cabinets 2019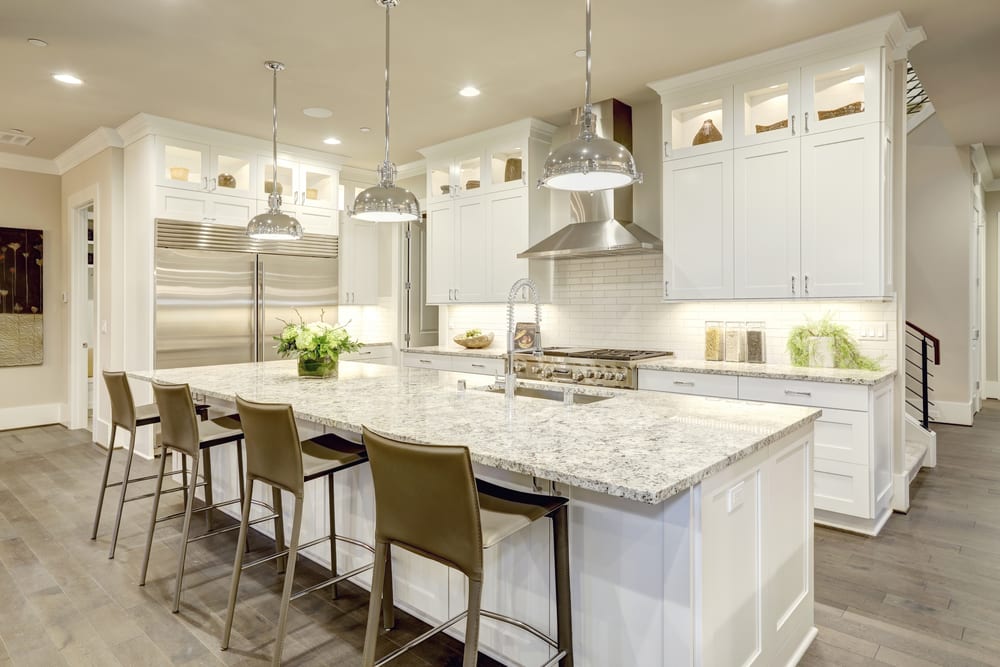 Where kitchen is the heart of home, kitchen cabinets are the its heartbeat. So, the place where you sit with family & friends, prepare meals should be incredible, filled with captivating interior lighting, colorful pieces of art ,superbly designed islands and latest trendy countertops/kitchen cabinets. When we talk about cabinets, we mean to say the cabinet door design, cabinet front door color, cabinet material and the way cabinets are installed professionally by the kitchen experts.
Most of you might have the beautiful color schemes already designed in the kitchen but try something new today. Try to paint the cabinets with new attractive color idea to give your kitchen a new flavor with the help of painting contractors Cape Cod. We will not only tell you the best colors but also help you finding the perfect color and paint type for your kitchen remodeling project in your affordable budget.
Some of the prominent colors that are trending and will continue their charm in 2019 as well are here.
Classic Blue Sapphirine
This blue is a lighter version of the cyan-blue shade that will give coastal vibe to the kitchen cabinets. If you paint it light instead of applying dark blue ,give a wider look to your kitchen space. It is the favorite kitchen cabinet color of the Northern and Europe countries where winter season prevails for long time.
Rich Yellow
This shade of yellow is the most luminous color of all colors spectrum. If you paint your kitchen cabinets with this color, those cabinets for sure will get an attention more than any other color painted on them. But difference can be seen only if you select the right hue under the guidance of kitchen cabinet painters then you will be able to mark a difference. So,are you ready to give a soft, and a modern twist to your cabinets with this color?
Shrewd Green
It is a neutral color that is well blended with a touch of brown and ochre yellow. This color will give your cabinets a sandy look that is most prevalent in hilly areas homes. It's a delicate color that easily blends with the almost any kitchen decor and tie the kitchen well with other hues in your home consequently.
Bright White
White is the only color that never goes behind the curve. It's all time favorite color of every homeowner whether you want to paint kitchen drawers,cabinets or cupboards, walls etc. It gives a flawless and frizzy look to your cabinets and overall kitchen. White can also be used in contrast with other bright colors to increase the curb appeal of kitchen and give it a royal look.
Ash Grey Grey is as beautiful as other colors of the world. You can give a stormy dusky look to your cabinets. It will give a traditional look to the cabinets and add uniformity in the kitchen view with other grey marble , quartz or granite countertops in combo.
Orange Zest
This tiny bits of orange peel give a bold, brazen and modish look to the kitchen cabinets. You can also pair it up with a pop up of darker toned colors to give elegant look and that would definitely won't go wrong. This bright color is best suited in autumn season.
Charcoal

This is evergreen color for kitchen designers from 90s. Kitchen cabinet painting ideas always go great with this color. This color has a tendency to hide blots much better than any other light toned colors in the paint market. This color is perfect for the sophisticated, elegant and intimate look of your kitchen cabinets.
Cool Mint
This kitchen cabinet color gives the cooling sensation and brightens up the more enclosed space or any light surfaces like backsplash. For homeowners who paint their kitchen cabinets or walls with this color exhibit a modern vintage style.
So these were the few most prominent and ruling colors of kitchen cabinets 2019. You can apply any of these after hiring a Cape Cod Painting Company. All you have to do is choose any one color from these and leave rest on us. We will treat your kitchen space with professionalism. We are the certified and well experienced painters who will prove their skills with the quality of work not the quality words. We will use the latest painting techniques for kitchen cabinets painting and give your kitchen a fresh look in less time. To know more about our previous work, get in touch with us to discuss your project today and get free estimate by giving us a call at this number (774) 327-9118 or simply email us at totalcarepainting@hotmail.com along with your painting project details.