Open floor plan design is one of the preferred designs in houses nowadays. House that is having open floor plans combine the kitchen area with the living region of the property to create a huge social space. At this place, visitors and relatives can cooperate during their visit instead of just chatting. In more simple words, this plan connects the kitchen (a working zone) with other spaces like a living room and dining room.
Now, the next important question in your mind should be about the best open floor plan paint ideas? For the answer to this question, read the following blog.
Selection of Paint Color for Open Floor Plan
Note that the open floor plan places the kitchen as a heart and utilitarian central point of the house. This will be including an island for extra counter space and a lunchroom with easy seating. The living room setting and other space setting will be dependent on this setting.
A beautiful open floor plan will also include some dramatic room arrangements. This open format is one of the best approaches to expand your space in a small setting of the living room and kitchen.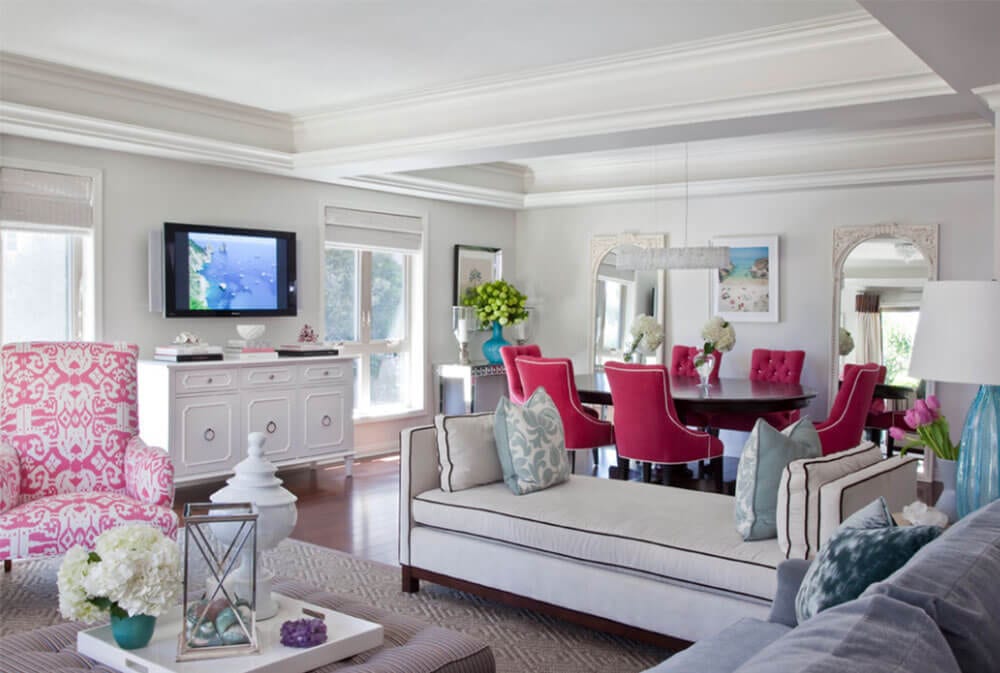 With all this happening, we might be asking a question from ourselves that should we paint one color in the entire area or a different color in the area? This question is really confusing and making the final decision can be very exhausting for the majority of people. Allow us to help you out in the right way because just like the furniture positioning, painting the open concept house is also very important.
How to select the paint color for an open floor plan? When going for selecting the paint color for your open floor plan, keep the following 10 points in your mind:
1-Be Creative in Your Approach
Every homeowner will wish to pick the best color for your house. Before you select any color, remember that if you are going to pick one color to paint the entire space, then there will be no way to separate the areas. But if you are using the comparable shades, then use the dark shades to highlight things and light shades for the trim.
Natural trim will look perfect with the contrasting shades. In addition to this, learning how to paint the area is also very important lesson when you are going for a serious painting plan. This needs proper skills and proper planning.

Painting the trim and using different hues on the wall will be a good idea if you will paint the trim in grey or white to avoid the plain overwhelming look. Remember that separation of the room with the paint is very easy and if you will learn this, then you can easily give an attractive look to your house.
Open floor plans are having angles and corners. It is good to paint them using different colors. There is no need to paint an adjoining space with one paint color. It is important to understand that using different colors will provide a visually appealing look and it will develop a multi-dimensional feeling along with the space within the property. Furthermore, by painting the areas with different colors, there will be a feeling of diversity instead of uniformity. To get your area painted evenly, contact Total Care Painting, a Cape Cod painting company for hiring the skilled painters for the job.
Moreover, the open concept room colors also look good with the small pieces of furniture. Allow us to explain this with an example; if you are having a bookshelf, then paint the corners of the shelves with different shades. You can also divide the space by painting trim along the ground using different shades. The open living will look really nice due to the different colors used within the area.

Thinking, what colors make a room look bigger and brighter? Using patterns or bold shades will make your room appear big and bright. This is one of the significant open floor plan ideas. For this, search for the corners and transition areas for a stop. Also, look for a start place to add or change the wall color. The color might set the tone for other interior design details of a home that include furniture setting in the living room.
When picking up different colors to paint for the open floor plan, it is best to select the color with similar shades. For example, choose a color from a similar shading wheel for both the living room and open kitchen floor plan.
2-Go for Different Paint Colors
Try experimenting with shades and use different open floor plan painting ideas to create the desired room arrangement. Make this happen by changing the values of shades from space to space within your house. This is a useful idea to practice in most of the open floor plan houses.

For example, the best paint color for an open floor plan is to use a lighter shade for your living room, go with medium shade for your kitchen area and pick some darker shade for your dining room. Note that, for larger spaces, use light hues and a little bit darker color for the smaller spaces. Simply buy one hue and use its different shades in different areas of your room. But for the kitchen and living room, use specific colors.
3-Utilize Architectural Features
In an open flooring space for creating proper color transition use ceiling beams, windows, built-in shelves, and mantels. If the large window for an open room is not expanding properly on the entire wall, then search for another option to make the change unsymmetrical.
Remember that if the ceiling beams mark the change from one room to another, then try changing the color of the ceiling but don't change the wall color. Instead, try to utilize the great room layout in a different way.

Use bookshelves for adding some special accents and color on the monochromatic walls to create an open concept living room. It is clearly noticeable to have more room for style and to arrange the floor plan furniture positioning, use architectural features to get the desired look.
4-Use Earth Colors for Painting Open Floor Plan
Wondering why earth colors are becoming popular? These colors give freedom to be combined with different colors without any worry. Combine them easily with neutral colors just like the taupe or yellow color. There is no need to worry if your room is having a different colored wall but it should be of similar tones.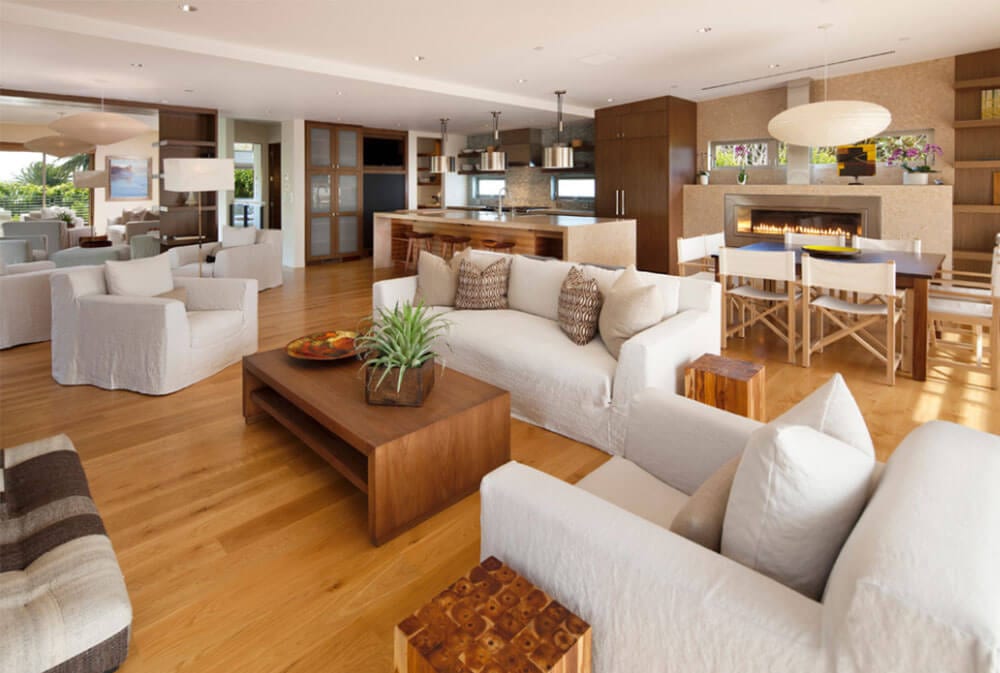 The color selection for rooms in a house with an open floor plan is an important significant decision. For example, purple-based maroon and olive-based green can be a good color combination for an open floor plan. Just paint one or maybe two walls with these earth colors to get a stylish look.
Think about placing some pillows on your sofa, art pieces, or chair so that they can match with the wall. This will be a good choice especially for the room with different color walls. This will be providing you the feeling that each wall is a gateway to another room.
5-Pick Different Open Concept Paint Schemes
To easily create a feeling of unity in your open living space, use the same color for your accessories and accent. Mix some accent shades along with lots of texture for creating a sophisticated stylish look. But don't forget to use the shade from the same color. There is no need to only use the light hue in the area. Go for a specific tone by using artificial or natural lighting.

With this approach, the lighting will change the color from one area to another. Due to this, open living spaces are becoming colorful areas that provide diversity. It is clear that there are multiple open floor plan color schemes just like the architecture of the open space.
6- Eggshell Paint for Cozy Look
The colors are playing an important role in the layout ideas of an open kitchen and living room. If you are planning to paint your ceiling, walls, or both in a darker shade, then it will give your room a cozier and smaller look.
To achieve this result, select eggshell paint. This color will absorb light and your room appears to be cozier, stylish, and smaller.

7-Select Some Strong Accent Colors
Planning to use some strong accent colors, then the larger part of the walls should be painted with light and more neutral shade. This will add a personal touch to your overall decorating project.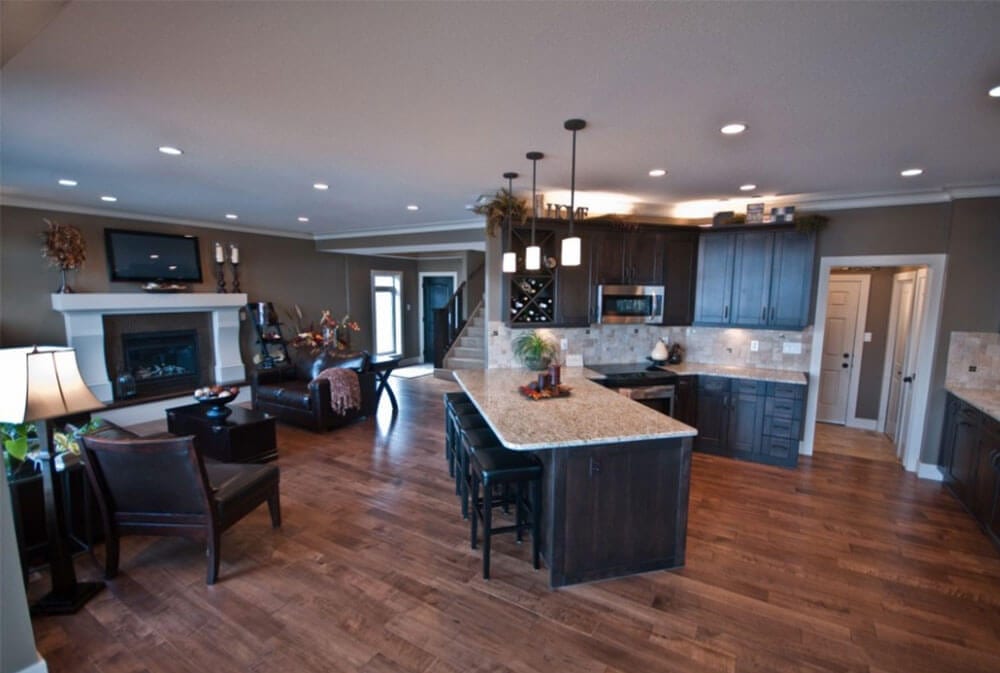 Paint one wall of your dining room in the rich red shade and use a green accent for your living room. Furthermore, if you like a strong accent color, then painting one or two walls is a good idea for your painting plan. To get a better idea about the selection of paint color, check the paint color trends 2019.
8-Mix Brown and Blue Shades
The combination of these colors will provide a fresh and more open look to your room. It will definitely influence your open floor plan to a greater extent. If you were planning to pick some bold colors, then this is the right time to mix these two colors. Colors like pale blue and chocolate brown complement each other in a nice way. These are the two best open concept room colors for a stylish and perfect look.

9-Utilize Carpets of All Kind
Using carpets in a large is good and it works best for an open concept living room. Combine the color of your carpet with your wall color and place some pillows on a sofa that are similar to the color of a carpet.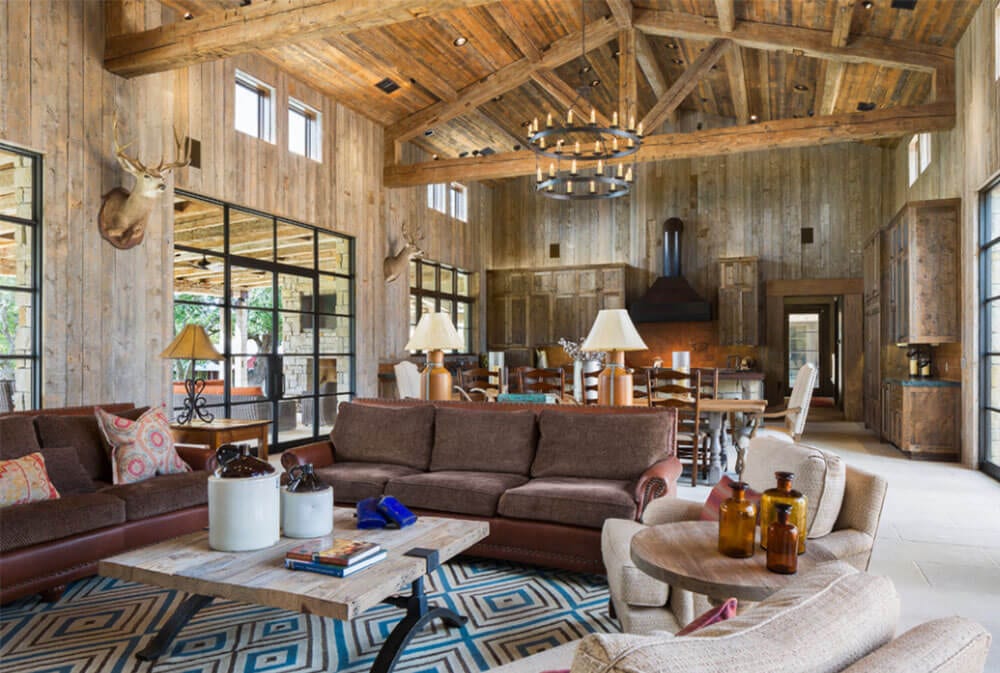 Note that the paint ideas of the dining room can match in an inspiring way. If your wall is painted with a strong hue, then pick a carpet with natural color. This will provide your room a more open and stylish look.
10-Pick Different Finishes
Selecting a decorative color to finish such as striping, sponging, or color washing for space is a good idea. After this, apply the same color on the remaining area in the firm finish and develop your own schemes for the open floor plans.
Here's a situation, having a cream or gold stripes in one room? If yes, then paint next room with cream and the third room with gold color. This will give an amazing look, especially for the small open floor plans!
Hire the Best!
This was all about the paint color ideas for your open floor plan. The selection of the right color will definitely give the perfect and stylish look to your property.
Still, need professional guidance regarding the selection of color and painting? For this, get in touch with the expert team of Total Care Painting. The team will guide you about the latest trends and will complete the painting process on-time using the appropriate technique and advanced equipment. They will keep customer's requirements on top of their priority list for complete satisfaction.
To know more about painting services, call at (774) 327-9118.