Top 8 Reasons Why Spring Season is Best for Painting your House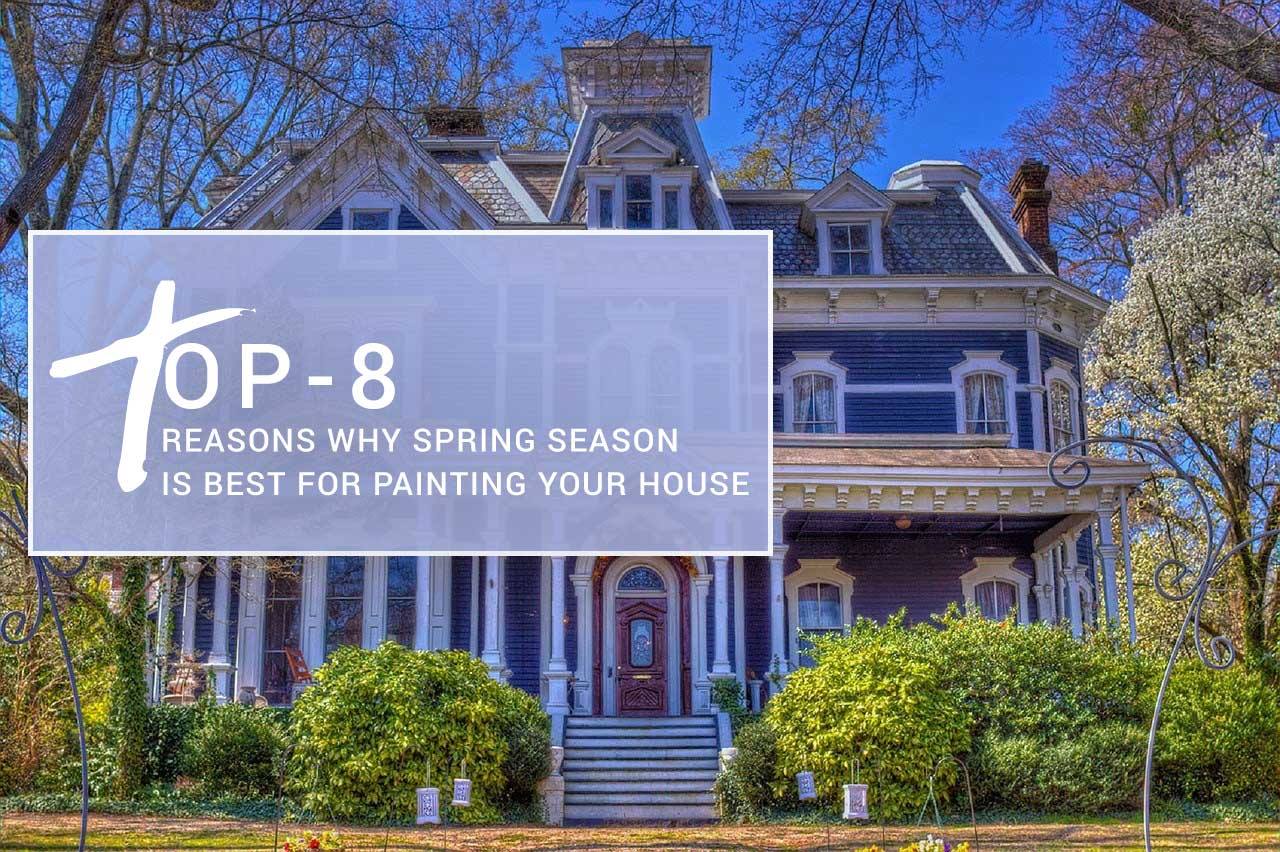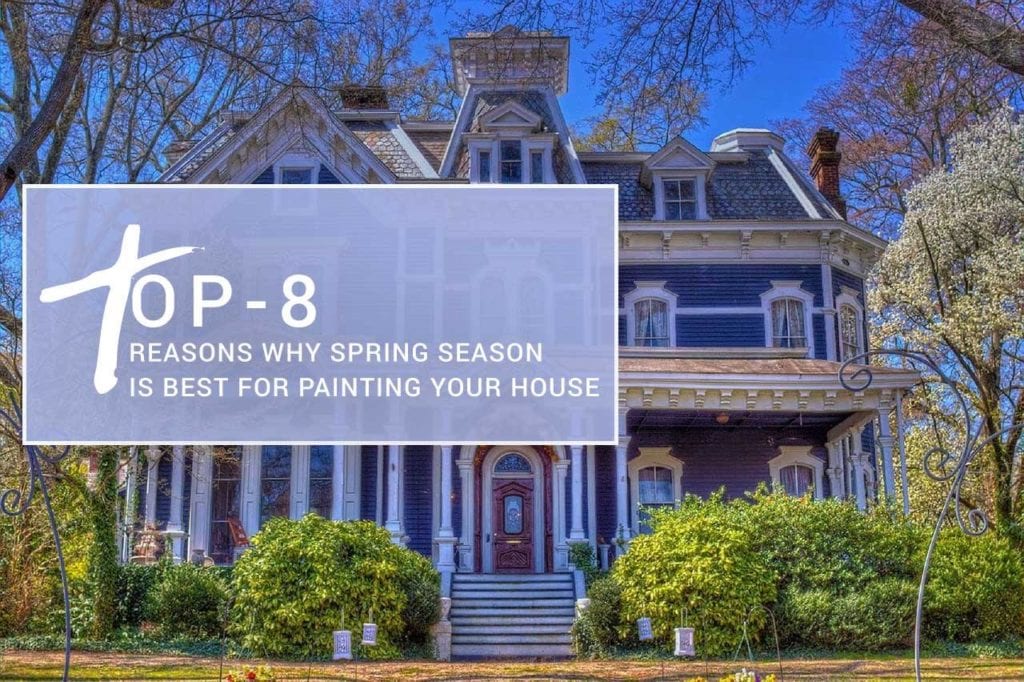 The exterior of a house is the true representation of its owner's lifestyle. It offers a great opportunity to reflect one's own expression with the help of colors. Paint plays an important role in increasing the visual appeal of your house.
The exterior of your house is also the first thing that people see when they enter the property. This is why it should be attractive and elegant at the same time. Your choice of paint will have a huge effect on the curb appeal of your house. The majority of homeowners pick trendy colors to paint their property.
Which season is the best to paint a house? This is a common question that homeowners ask.
Spring is a great time of the year to paint your house.
Here are some great points in favor of painting your house during the spring season.
1- Spring- A New Beginning
Spring is a season that is symbolic with a fresh start. New leaves grow and flowers start to blossom. This season gives you a great opportunity to take action and start a new and bright lifestyle. As a homeowner, you can start a new beginning by painting your house. Painting the exterior of your house gives it a new and refreshing look.
To get your house painted professionally, consider hiring professional painters in the Cape Cod area and surroundings.

2- Low Humidity Levels
Painting requires certain conditions for best results. The temperature should be suitable to achieve the desired outcome. Low humidity levels in spring offer a great chance to paint your house.
As humidity is low, there will be less risk of moisture getting trapped in the wall surface. If moisture gets trapped in the surface, it forms bubbles on the wall, as moisture attempts to escape. Furthermore, low humidity will allow the paint to dry quickly on its own.
To avoid the problem of moisture getting trapped, avoid painting during the rainy seasons when humidity is high.
3- Weather is Just Perfect
It is important to note that paint does not mix well in humidity, rain, snow, or other similar weather conditions. Due to these weather conditions, you are not able to get a balanced paint solution for painting. However, the mid-late spring is the right time to paint your house. It is always best to do the exterior painting when the temperature is near 10°C.
Once the early spring is over, the weather pattern of summer begins. The days become warmer, dryer, and there is plenty of sunlight. Painting in spring is the perfect time to paint your house for best results.
4- Increases Curb Appeal of Property
Every homeowner wants their property to look good. Painting is one of the best ways to achieve this goal. You can select appealing colors for the exterior of your house and give it a new look.
This will enhance the overall curb appeal of your house. This will not only improve the aesthetics, but also increase the value of your house.
Tan, brown, and grey are some of the best neutral color selections, whereas the white accent colors will give a great look to your window frames, doors, and shutters. A well-painted house is a great investment.
5- Best Time to Paint For Sellers
Painting your house in spring is a good idea, as summer is a busy season for buying and selling property. As you will be painting your house in spring, your house will look fresh for the coming selling season. Painting your house increases the appeal of your house. You will also enjoy an increase in the value of your property.
The potential buyers are ready to pay you more if the first impression of your house is good. So, painting your house with nice colors is surely worth it. A fresh coat of paint will surely increase the demand of your house, and you will get more money than you expected.
6- Time to Repair Winter Damage
Winter is very harsh for the paint on your house. Weather conditions like ice, snow, frost, rain, and storms affect your house's paint. Moisture has a negative impact on your paint because it causes it to swell or soften, which will lead to blistering, peeling, and flaking. Remember that the high moisture conditions also trigger the growth of mold or mildew.
Once the winter season is over and spring is arriving, do conduct a thorough inspection of your house. You will be able to evaluate all the damage your paint endured during the winter season. Don't wait too long to repaint, because the delay will increase the cost of repair.
7- Affordable Prices
Painters hate slow and long winter as they are not getting a good amount of work. A large percentage of people don't prefer winter for painting due to drying issues, moisture issues, and much more. So, the painters are waiting for the spring season to get out and start their work. Homeowners want to get their house painted in spring due to the ideal temperature conditions.
As the demand increases after the arrival of spring, the quotes offered by the painting companies become more competitive. So, it is the best time to avail the advantage and get the painting done by professional painters at the right price. Most of the companies provide free quotes, ask them and make your final decision after getting quotes from different painters.
8- Hiring of Expert Painters is Easy
It is important to note that the expert painters get booked by the end of the spring for the rest of the year! As the spring gets started, you should start getting the quotes from the different painters and hire them as soon as possible. Due to the early hiring, the painter will give a sufficient amount of time to the painting job. This will ensure that quality painting is done for your house.
Painters play an important role to give a new look to your house. You can also get guidance about the paint color of your house because they are aware of the latest trends. The painters will guide you in the right direction and they will use the right equipment and techniques to paint your property.
Over to You
Every homeowner wishes to see their property look beautiful. Painting is one of the cost-effective ways to do it. Paint your property timely to avoid the problems discussed above, and enhance the overall look of your property.
Planning to go for spring painting this year? Get in touch with the expert Cape Cod painters of Total Care Painting. Our pros will provide the best exterior and interior painting services for your residential or commercial property.
Do you have any questions regarding our painting services? Tell us in the comment section below, or call us at (774)327-9118.