8 Paint Color Options for your Baby's Nursery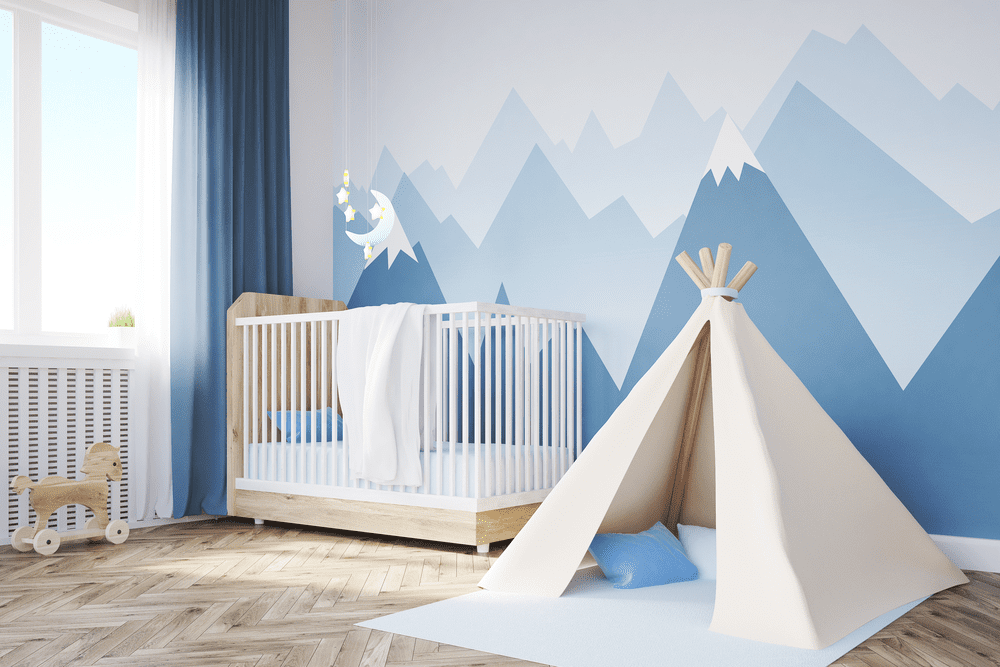 The moment you know that soon there will be an arrival of a baby in your house, then there are many things revolving in your mind. You might be thinking about the name, daycare or parent home, and many other things. One of the important thing from the list is the nursery. It is really a fun thing when preparing or decorating the nursery to welcome your newborn. There are many paint color options that you can pick for your baby's nursery.
You should be familiar with the color psychology. According to this, the room color has an impact on our behavior, mood, and even health. Your baby will spend countless hours in the nursery so the selection of paint color should be made very carefully. Your decision will be better if you keep the psychological effect of color in your mind. Moreover, you should also use the paint that is baby safe.
To get the best work done in terms of the painting you should hire Cape Cod painters from Total Care Painting. Our skilled crew will keep all your requirements in mind during the work for your satisfaction. We use high-quality paint and the right tools to complete the work on time.
What is Baby Safe Paint?
Before going to pick the color, you should have knowledge of baby safe paint. As you are going to choose the paint for your little one's room so it should not affect his health. To get this paint, you need to ensure that the selected paint is having zero volatile compounds (VOC). The paint with zero VOC emission paint is having less than 5 grams per liter of organic compound as compared to the 50 grams per liter in less or low VOC paints. For a safe paint option, you should go for a water-based product.
You can get these paints from your local paint store. Additionally, you should get the paint that does not require a primer. Due to this, there will be a less use of chemicals. Furthermore, if you are having any mold issue in your house, then there is paint that comes with antimicrobial agents. Those paint will help you to keep mold and mildew away from your baby room. You can inquire about those paint when visiting the shop.
Looking to get nursery painting ideas? To help you out in making a better decision, following are the eight paint color options:
1-Orange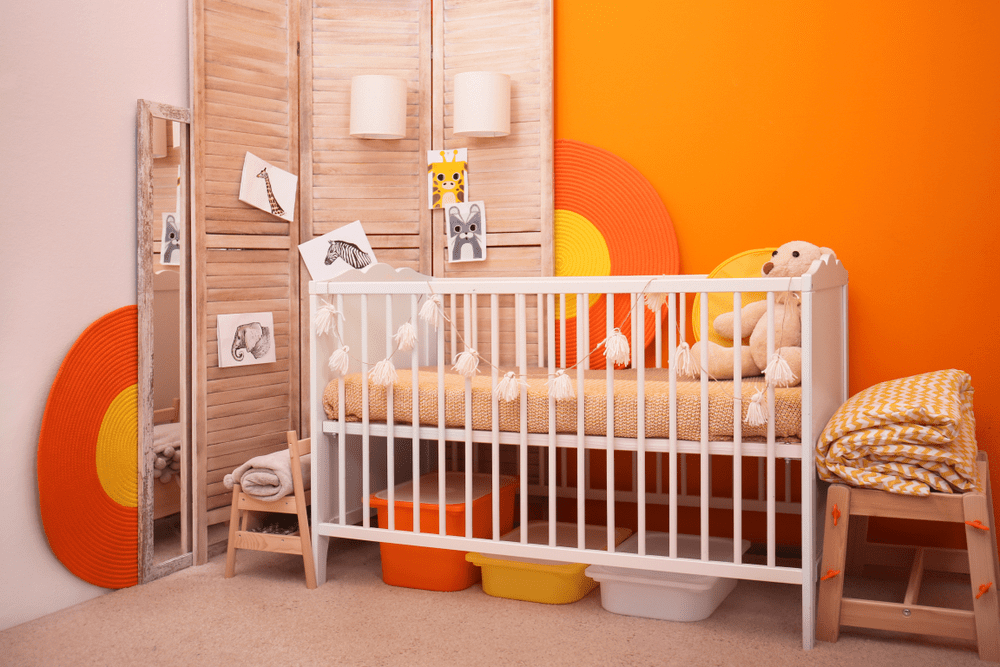 It is a comforting, warm color, and provides ease. Furthermore, it is also social and friendly that can inspire communication. This color can make you over-stimulating and hungry on the other side. If you are planning to use it, then it is better to be used it for the accent walls.
2-Red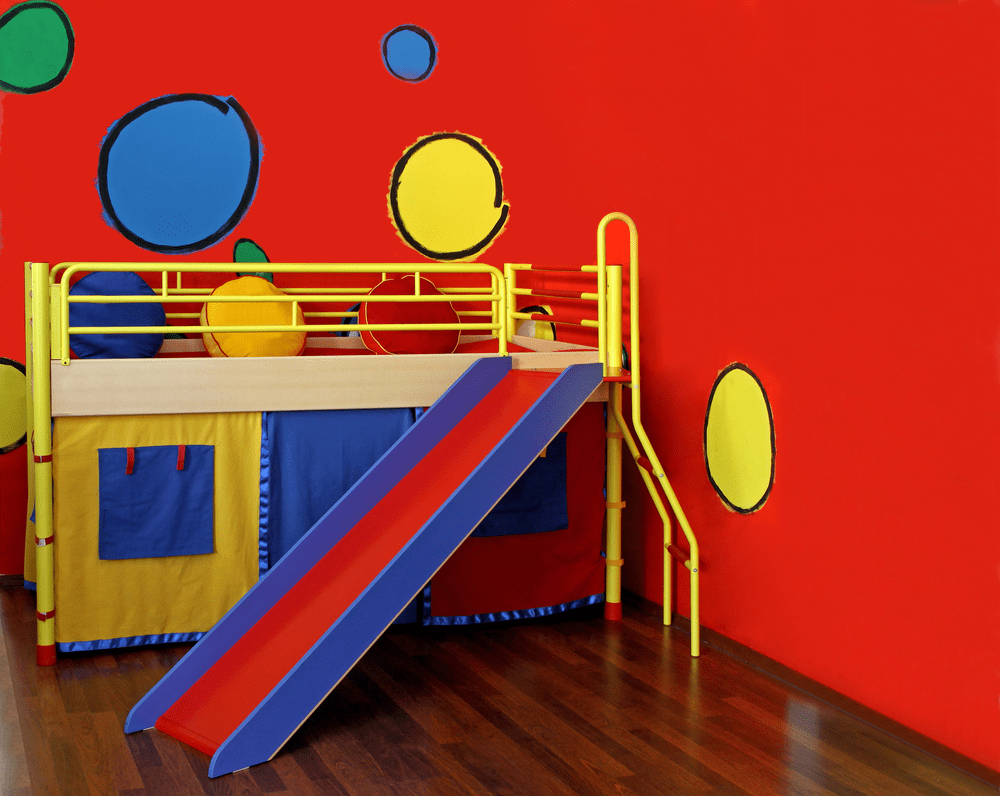 This color is having positive and negative aspects. According to some studies, red increases athletic ability. It is also energizing. But on the other side of the coin, it can also increase aggression, make focus difficult, and cause a headache too. Keeping this in view, covering all walls with red is not a good idea instead you can go for a red accent wall throughout a nursery that will work and look fine.
3-Yellow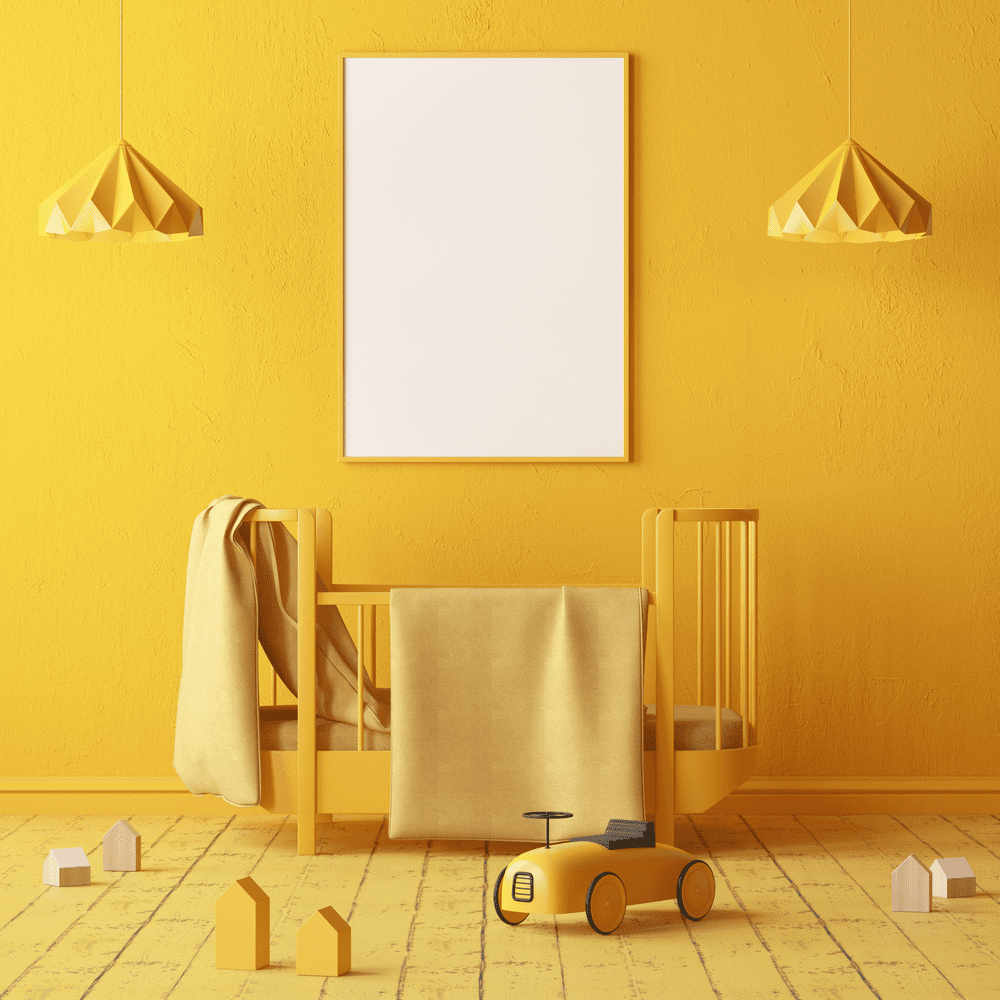 It is one of the preferred colors and stimulates the feeling of cheering and happiness. The bright yellow hues are sunny and energizing but they can be agitating to a baby. Moreover, the softer yellow encourages concentration and it can be a nice balancing color. Just the like the red and orange as discussed above this also should be used in moderation for your nursery color schemes.
4-Green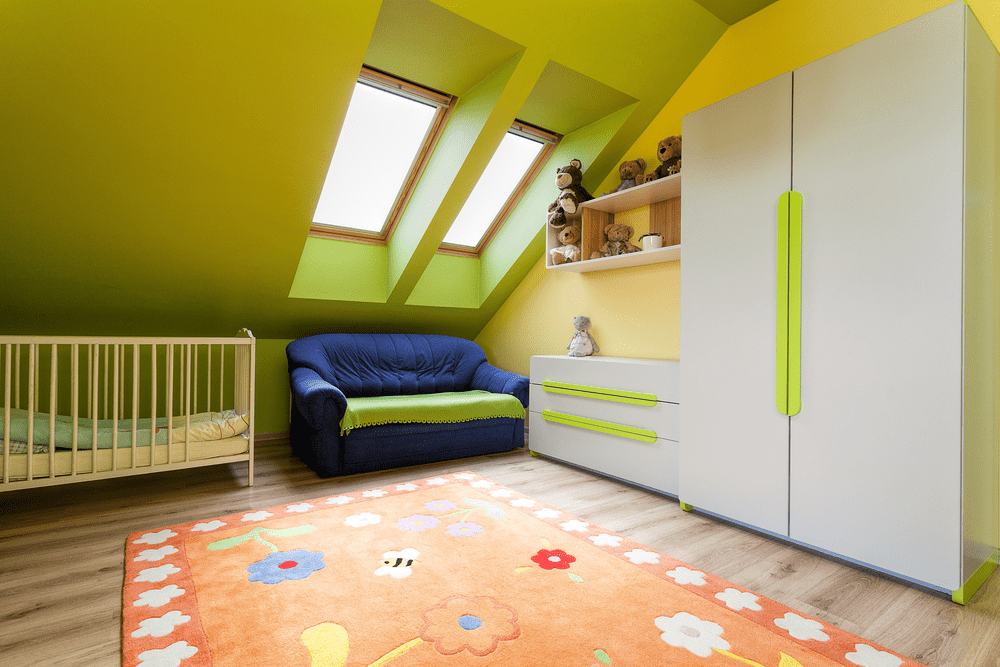 It provides a feeling of soothing, calmness, and health. The green color provides an environment to promote the condition for concentration and thinking. You will find green color everywhere in nature and it will be a good choice to decorate all types of rooms including the nursery. In the nursery, you can use it as main color or you can use it to soften some of the energizing colors such as yellow.
5-Purple
Purple color stimulates the feeling similar to the red and blue color. Selecting the right shade of purple color can really make the difference. This color will work best with rich fabrics. For your information, pastel purple is calming.
6-Blue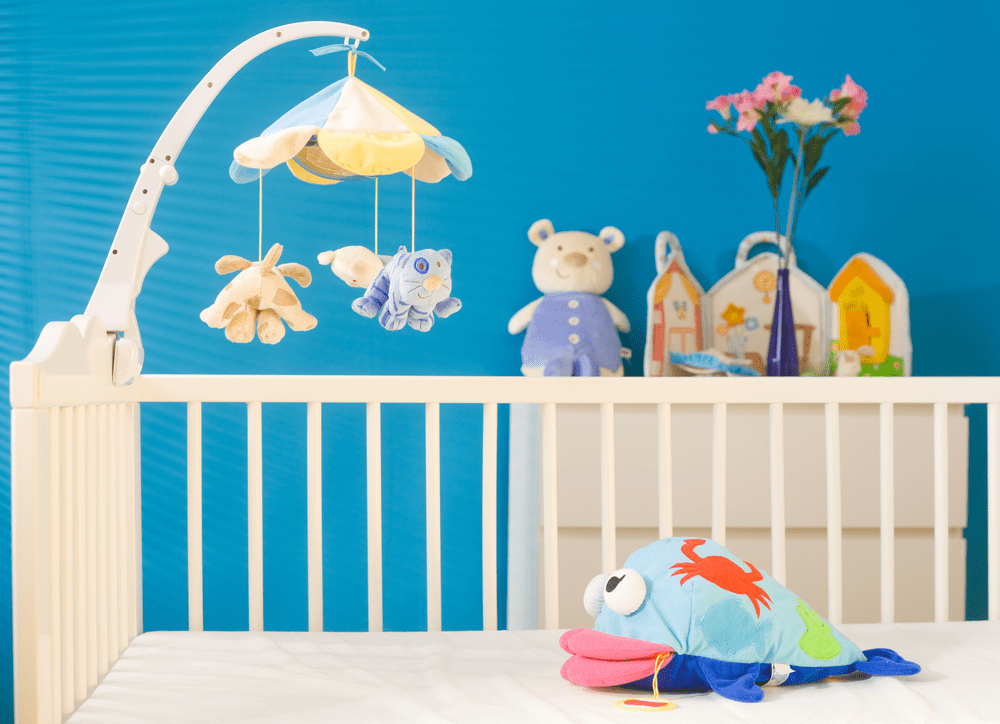 Generally, the blue color has calming effect. It is found that it lowers the blood pressure and heart rate by reducing the feelings of anxiety and aggression. This color will help you to sleep well and keep you stay calm.  If you are planning to select the blue color, then you need to be careful in selecting the right shade of blue color. The blue with the gray combination can make you feel sad and bright royal blue will look overwhelming. This color can be one of the best for baby boy nursery paint color.
7-Gray
The gray color is responsible to promote thoughts and emotions. It also reminds of loneliness and sadness. Planning to use it? You should use a warm tone coupled with brighter color for your baby's nursery.
8-Pink
The pink color is mostly associated with a female gender. This color option is on top of the list for baby girl nursery paint colors. This color evokes the feeling of empathy, soothing and calmness. You need to ensure that you don't overdo it. Remember one thing that this color can be irritating with the passage of time.
These were some of the color options for your baby's nursery. The final decision will be yours. You can pick the best according to your own preference. Looking to get the professional help for selecting the right color? You can get in touch with Total Care Painting, a professional painting company. The company having experienced designers and skilled painters to do the perfect paint job for you. Our professional team will guide in you a right direction keeping the ongoing trend in their mind so that you can make a better decision.
To inquire more about our services, you can call us at (774) 327-9118.