6 Creative Color Choices for Your Small Kitchen
The kitchen is a significant part of any house. The need and the functionality performed by this integral hub cannot be ignored. Thus, this space requires frequent upgrades in term of design, style, paint and more to enhance the look. From different aspects of styling, painting is one of the primary steps that need to be taken first and foremost. The color selection of the paint can be a tough decision as it reflects the beauty of the area as well as represent you. The selection of color is purely your choice based on your taste. Looking to hire professionals for the painting job of your house? Hire professional painters in Cape Cod such as Total Care Painting to get effective results along with expert guidance.
Following are some suggestions regarding colors that you can choose for your small kitchens:
White
Most of us, at Cape Cod painting company, start our day in the kitchen. Hence, the use of white color can help energize the room and the occupants. It provides a fresh and clean look. All white kitchens will surely wake you up the minute you step into your kitchen. To enhance the beauty and to get creative, you can also have fun with countertops and backsplash by selecting in brighter colors.
Gray
Gray is a neutral color to pick. It has been taking center stage in many homes recently. It often gets categorized as being too cold, but it can work wonders in a kitchen with the right shade. It pairs beautifully with a wide array of colors. It is the perfect base to build in a kitchen on. It can also work well for countertops or a cabinet color.
Blue
Blue is another color that works well in kitchens. Using lighter shades of blue gives you a crisp, clean look. This color is recommended for walls, cabinets, or even for the ceiling. Blue is an invigorating color that works best when used sparingly. If not, it can overpower a room. Dark blues also work well in kitchens, but it is significant to accent the rest of the room with hints of white, grey or other neutral tones to avoid turning the area too intense and dark.
Yellow
The use of yellow shade can instantly light up a room. It provides a soothing quality that makes people feel calm and happier in your kitchen. It is a good option for small spaces as it can make rooms appear bigger and brighter. It can be paired with white and grey accents. Get guidance and professional services from our professional painting company in Cape Cod MA to keep your kitchen in a better look.
Green
Green is also a smart choice. It comes in many different shades including mint and apple green. These options pair nicely with white and wood accents. If you are open to bold choices and want to try something different, then try emerald green. It is a striking shade. It can add a jolt of energy to your kitchen when used for accent walls, cabinets, an island or even for the floor.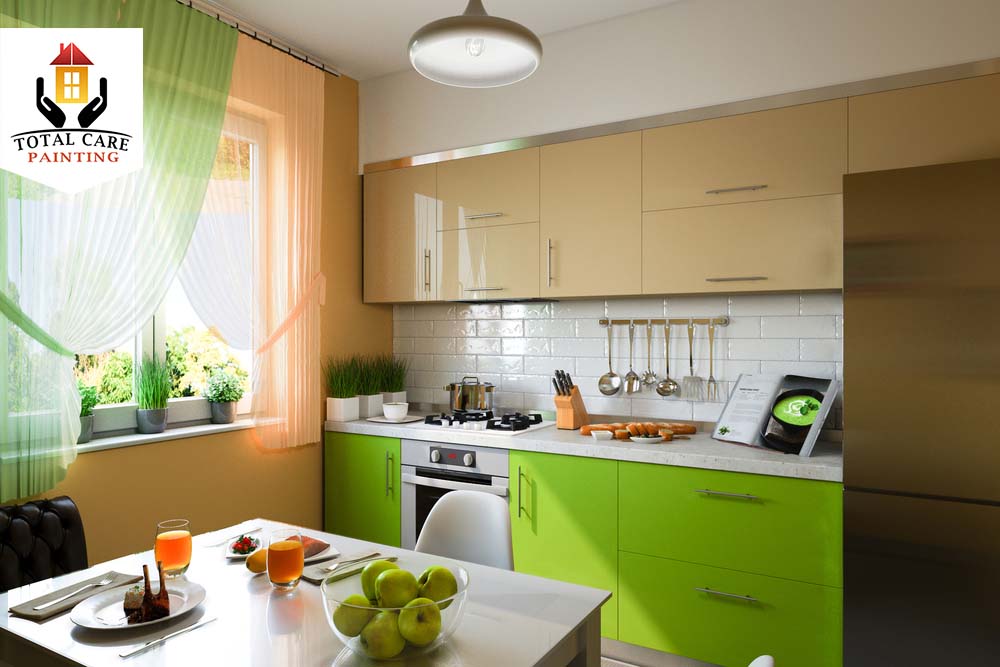 Red
Do you like vibrant colors? The red color is one of the warmer colors and stimulates appetite. It is a good option for kitchens if your happy with the size of your kitchen and can't find a way to make it visually bigger. It is incredibly versatile as it comes in multiple shades which can be applied on kitchen cabinets or walls.
These were some of the options that can be selected for your small kitchen. You can pick from lighter to darker shade depending on your choice. For more info on our services for home interior painting in Cape Cod, call us at (774) 327-9118.