2018 Color Trends in Residential House Painting
Every year, renowned paint and color companies offer unique palettes to the masses. These chosen colors and their combinations are then used by designers, professional painters, architects, fashionistas and the likes in their creations. For this year, we bring to you the top 3 colors that have been announced as the flagship color to represent their companies. We take a look at Pantone, Benjamin Moore, and Sherwin-Williams. At Total Care Painting, we not only offer you with the best residential and commercial painting service, but we also take our time to work with you on the color palettes that will adorn your property. We understand color and how it plays with its surrounding, and with your input, we help you make informed decisions about which paint color goes where.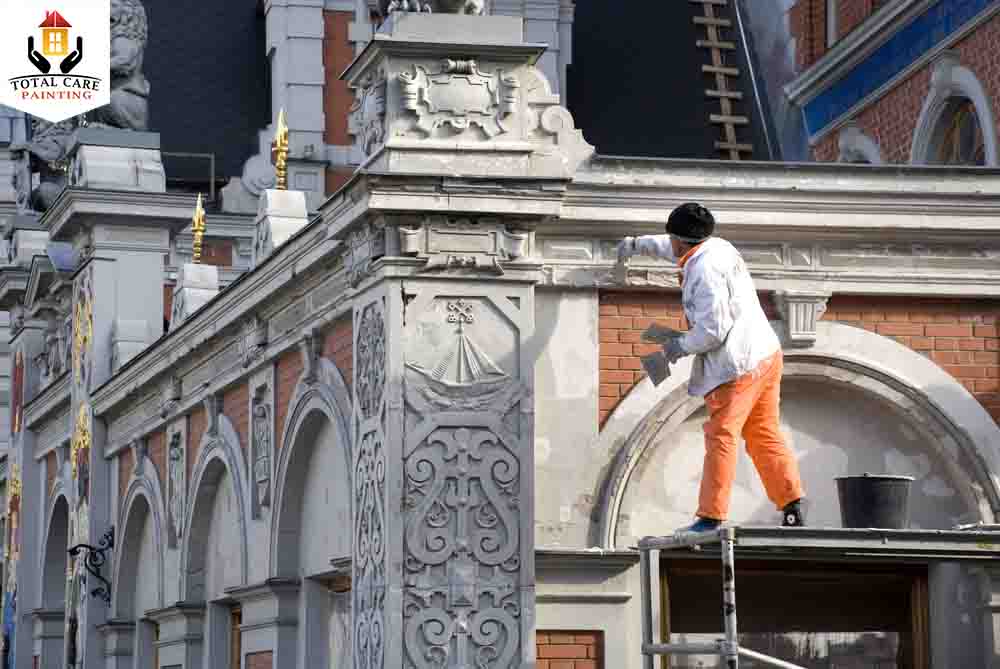 Here's a list of which 2018 colors will be trending the most in the residential house painting scene this year:
Pantone – Ultra Violet 18-3838
The color powerhouse Pantone declared Ultra Violet 18-3838 to be its Color of the Year 2018. With a subtle shade of lilacs, it has been deemed as imaginative and inventive. The purple shade will play its way perfectly into the regal notions of the current fashion and design trends. It is a color which our residential painting service in Cape Cod recommends for your feature, high-value and light-traffic rooms such as living rooms, guests rooms, sunrooms, etc. From Hendrix's song Purple Haze to Prince's flamboyant signature outfits; ultraviolet has been a significant part of pop culture.
Ultra Violet walls can be blended with similar shades of reds, pinks, and lilacs to portray a haven of peace. You may also contrast it with lively yellows or complement it with similar pastel hues reminiscent of the 50s and 60s.
Benjamin Moore – Caliente AF-290
Caliente AF-290, a deep shade of red with a slight hint of pink in the mix, has been chosen as the Benjamin Moore's Color of the Year 2018. It is a confident mix of energy, curiosity, grandeur, and enigma. The radiant color is easy on the eyes as a primary color option for any room as well as being a perfect accent to neutral tone main color option. Total Care Painting, a professional painting company in Cape Cod MA knows that Caliente is an inviting, warm, alarming and exciting color. We recommend it for low traffic rooms or children rooms where a healthy level of energy is usually required.
Caliente can be decently paired off with grays to bring out a calculated professional feel to the room. It can also be used as an accent popping among silhouettes of with earth tones, whites, greige, beige, etc.
Sherwin-Williams – Oceanside SW 6496
For the 2018 Color of the Year, Sherwin-Williams announced the winner – Oceanside SW 6496. It is an amalgamation of blue and green resulting in a rich shade of teal. Since it combines green and blue, it signifies both prosperity as well as serenity. It is a nod to the watery hues of oceans reminding the onlooker of open seas, wild adventures, and marine wonders. Our professional painters Cape Cod suggest using Oceanside for focal rooms, walls, spaces, and trims. As a primary paint, it can be accented with color pops of bright yellows, reds, pinks, lilacs, and even cool and warm whites.
Oceanside has versatile palette combinations which can be utilized to give off either a funky outlook or an elegant finish. You may emphasize on its natural presence with metallic sheets such as copper, bronze, gold, and silver.
If you need more color ideas, paint advise, or seeking to hire our Cape Cod painting company, feel free to contact us at (774) 327-9118.